Welcome to another blog entry on the Spanish language. In the last entry, we looked at learning Spanish with Children's books. In this one, we're going to be looking at Spanish and popular culture, and more specifically, fairy tale, film and television characters and titles translated to Spanish from English.
Famous Characters and Titles in Popular Culture Translated into Spanish
We assume that beloved and famous characters and titles from popular fiction in the English speaking world are something that uniquely belongs to Anglophones. Daffy Duck is just that wacky animal on the TV that so many English speakers grew up with, and Snow White is that English Speaking brunette girl that more than anything has been shown in American cinemas, or broadcast on Australian televisions. Total Recall is that distinctly Hollywood film that so many Canadians, or English, or New Zealand teenagers grew up watching during the 90s.
Yet what many don't realise is that many of these characters and titles from popular fiction have global reach, and are just as popular in places of non-English speaking backgrounds. There must be an enormous trove of examples in a myriad of countries and regions, but let's focus on English titles and characters as they appear in the Hispanic world.
How were these titles and characters translated from English to Spanish using ideas common to both languages, such as word play? Were the translations successful, or maybe even better than the originals, or were they a complete catastrophe? And what are some of the perhaps lesser known reasons for the ways and circumstances in which they were translated?
Let's start by listing the Spanish equivalents next to their English language counterparts:
Fairy Tales
| | |
| --- | --- |
| Snow White | Blanca Nieves |
| Rumpelstiltskin | El Enano Saltarín |
| The Frog Prince | El príncipe rana |
| The Little Mermaid | La sirenita |
| Cinderella | Cenicienta |
Cartoon, Animal and other Characters
| | |
| --- | --- |
| Fred Flintstone | Pedro Picapiedras |
| Homer Simpson | Homero Simpson |
| Daffy Duck | El Pato Lucas |
| Kermit the Frog (Spain) | La rana Gustavo |
| Kermit the Frog (Latin America) | La rana René |
| The Lion King | El rey león |
| Jon Snow | Jon Nieve |
Film and Television Titles

| | |
| --- | --- |
| Total Recall (Spain) | Desafío Total |
| Total Recall (Latin America) | El vengador del futuro |
| Back to the Future | Volver al futuro |
| Back to the Future | Regreso al futuro |
| Star Wars | La guerra de las galaxias |
| Star Wars | Star Wars (some countries) |
| Jaws | Tiburón |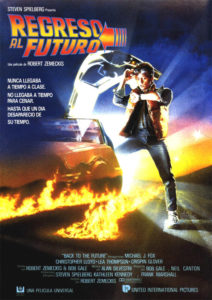 | | |
| --- | --- |
| Total Recall (Spain) | Desafío Total |
| Total Recall (Latin America) | El vengador del futuro |
| Back to the Future | Volver al futuro |
| Back to the Future | Regreso al futuro |
| Star Wars | La guerra de las galaxias |
| Star Wars | Star Wars (some countries) |
| Jaws | Tiburón |
| Wacky Races | Los autos locos |
| The Smurfs | Los pitufos |
| Speed Racer | Meteoro |
 Some More Straight Forward Translations
A couple of the above characters and films have actually been translated from another language to English previously (for instance, the Little Mermaid, from Danish –Den lille havfrue), but it's worth pointing out that the ones mentioned in this article have been straightforward, faithful translations, and that the English language equivalents arguably form the basis for their worldwide recognition.
Some of them have been translated as literally as can be done with translation, retaining their meaning, because the title does not rely on alliteration (the repetition of sounds or letters, often resulting in a catchy or amusing rhythm, such as "Fred Flintstone") or puns (giving double meaning to words through words with the same sound or similar sound), but rather the fact that the words mean more or less the same thing in both languages.
Good examples of these would be Juego de tronos (Word-for-word, "Game of Thrones"), el señor de los anillos (word-for word, The Lord of the Rings) and La guerra de las galaxias (Star Wars), the latter being "The War of the Galaxies", but which could also be translated as "Galaxy Wars". Pretty close hey? The slight difference in this last example arises because of the way names and descriptions of things are ordered or phrased depending on the language.
Retaining Puns and Particular Meanings in a Translation
Some titles have been translated with the retention of a pun or particular meaning in mind. A good example of this is the (bad) romantic comedy "Stuck on You", which deals with two conjoined twins who take part in assorted rom-com antics. The title, which alludes to the idea of a romantic attachment as well as referencing the compromising position the protagonists find themselves in, is translated to Spanish as Pegado a ti, for the same reasons, as the word 'stuck' (pegado) has much the same meaning in both languages. To a lesser degree, films like "Face/Off" manage it as well. "Face/Off" refers to the film's premise in which the protagonist's face is removed in a military experiment, but also makes use of a pun by referencing his confrontation with the enemy. The Spanish language translation Cara a Cara (Face-to-Face) sort of manages it, but there are better translations around.
The Modifying of Puns and Meanings
The most interesting cases though, are where the translator or translators have been able to retain some kind of meaning, by way of completely altering the title, simply because a literal translation wouldn't work. An example of this could be the translation of the film "Knocked up", a rom-com about an unwanted pregnancy. "Knocked up" when translated literally would have little to no meaning in Spanish, so they've opted for something else, which is translated to Spanish as Lío embarasozo (embarrassing mess). Likewise, "Embarrassing Mess" would mean nothing as a film title in English, but embarasozo (embarrassing) plays with the idea of embarazo (pregnancy) to interesting effect.
Translating Alliteration and Unique Meanings
Other titles have been translated with alliteration in mind, and this is almost always done with a bit of ingenuity, owing to the different sounds of letters and words from language to language. Fred Flintstone is a mild form of alliteration, insofar as the letter F appears in quick succession. The name also works because it's amusing that someone has such an archaic object for a last name. The general humour around the idea of a man with a rock in his last name is retained in the Spanish translation, but while the alliteration would be lost in the literal translation to Federico Sílex, it is interesting that the translators have changed his name to Pedro (Peter), and given him the surname of Picapiedra (a nonsense word combining picar – to burn, itch, nibble, among a thousand other meanings, and piedra – stone), thus also retaining a novel form of alliteration.
In an effort to maintain certain odd words, or those with a special or unique meaning, some character names have been translated quite well. Take the name "Daffy" for instance. Daffy Duck is amusing in that it combines alliteration as well as a sense of delirium in the name "Daffy". The Spanish language equivalent el pato Lucas (literally "Lucas the Duck") seems strange to an English speaker. It loses the alliteration, but does the sense of nuttiness get lost too? Well, "Lucas" sounds a little like locos (crazy), so perhaps not.
Losing One Thing, Gaining Another…
Whether it's the use of alliteration, puns, or certain special words to create amusing or unique images in character names and film and television titles, sometimes the nature of the title cannot be retained during translation. Some characters have been translated in interesting ways to get around this. The character of Kermit the Frog relies on the novel and somewhat benign-sounding name Kermit to elicit an image of a sympathetic anthropomorphic frog, yet when translated into Spanish, la rana René (René the Frog), the translation arguably loses this feeling with the common name René (I mean, you can't beat the name Kermit. Who is called Kermit in real life, anyway?), but arguably gains an amusing alliteration of the letter R in the process.
Better than the Original Translation?
Some of these titles and characters have ingeniously improved on the original translation. While rare, this is something special. An example can be seen in the translation of the college-humour film "Get Him to the Greek" – clearly referencing something internal to the film experience – to Todo sobre mi desmadre, which translates as "All About my Wild Party", using the word desmadre (wild party) as a pun on todo sobre mi madre, (All About my Mother) the famous Spanish film by Pedro Almodóvar.
English to English?
In some cases, the original English name has been retained in the translation, as is seen with television series such as "Breaking Bad". It's worth noting that in certain circles of film fans, original titles are retained when speaking about well-known and loved series or films. For instance, many Star Wars and Game of Thrones fans simply refer to the ultra-famous movie and TV series as "Star Wars" and "Game of Thrones".
Lost in Translation
In some cases, meanings have been slightly (or very) lost in translation. The animated film "An American Tail", about an immigrant mouse in the U.S.A., is translated literally as un cuento Americano. Not a bad title, but as far as the pun goes, it is completely lost, as "tail" and "tale" are not homophones in Spanish. In the case of the 80s' television series "Night Rider", the title carries a mild rhyming sound, but also exudes an air of mystery and coolness. The translation to Spanish El auto fantastico (the fantastic car), while not a horrible translation, loses much of the original feeling and rhythm in the title, but arguably gains something else in its more 60s–sounding, perhaps slightly child-like and innocent tone.
Majorly Lost in Translation, AKA "Some of the Worst Atrocities Committed to Paper"
And then there are the hopeless cases… The previously-mentioned El vengador del futuro (The Avenger From the Future), Tiburón (the Spanish language title of "Jaws", which translates as "Shark") and Sueños de libertad (the Mexican title of "the Shawshank Redemption", which translates as the highly imaginative "Dreams of Freedom") should win awards for terrible translations. Among the winners would have to be Mi pobre angelito (the Spanish language title of "Home Alone", which translates as "My Poor Little Angel") and finally…… Perdido en Tokio. Can you guess what that is? It's the title for "Lost in Translation", which translates as "Lost in Toyko". Right….ok…
Translation and Regional Variations
Regional differences also play a role in the translation of characters and titles. For instance, Kermit the Frog is known as La rana René in Latin America, but La rana Gustavo (Gustavo the Frog) in Spain. Total Recall is called Desafío total (Total Challenge) in Spain, contrasting with El vengador del futuro in Latin America. "The Terminator" was released under the same name in Spain, El ejecutor (The Executor) in Perú when the film was first promoted, and then as El exterminador (The Exterminator) for the Peruvian TV release.
Why These Types of translations?
I don't profess to know all of the exact reasons, but aside from the obvious examples which translate well, puns and alliteration included, a lot of the decisions around the translation of slightly more (or very) difficult titles and characters can only be connected to the innumerable historical reasons, as well as marketing and distribution strategies over a range of time periods and varied geographical locations.
Age-Old Characters and Famous Translations
In the case of much loved fairy tale heroes and characters, well, they're embedded in the imaginations of generations of story lovers. It's no wonder that they've been translated so well. La sirenita (The little Mermaid) and El Enano Saltarín (Rumpelstiltskin) are good examples which capture the feeling of the characters, the first of which is a literal translation of the words "the little mermaid", and the second of which evokes a quirky image of a small, prancing dwarf.
What about characters in long-running series such as the "Loony Tunes" and "Hanna-Barbara" cartoons, or newer series which rely on a strong, discerning fan base such as "Game of Thrones"? You would think that a bit of thought must have gone into the process. While some laugh at the translation of the imaginary land central to the plot of GOT from "Winterfell" to Invernalia, many think it a fitting reproduction of a word containing hints of the words "winter" and "land", for a series that has a legion of dedicated followers.
An Absent Market?
As far as leaving the titles as they are in English, this absence of any translation whatsoever might be due to a lack of a market or relevance, and therefore a lack of major release in certain countries. Shows like "Breaking Bad", exclusive to expensive cable networks would not have a large audience in many parts of Latin America.
A Discerning Market?
The reference by fans to certain titles in their original guises hints at a definite presence of aficionados and an educated fan following. I know of numerous popular culture-obsessed Hispanics who refer to a number of series and films with their original titles, and who absolutely REFUSE to watch anything that is not displayed in the original language with Spanish subtitles!
Or Perhaps an Undemanding One?
As far as the lesser translations go (and indeed the shocking ones), one can only imagine that a lot of it comes down to a lack of a serious and demanding market where these film releases are concerned. The absence of a strong market relevance must surely result in a lack of translation resources. Many of these horribly translated films are also dubbed in a hilariously cringeworthy way. It's also worth noting however, that films such as "Friday the 13th," translated as Martes 13 (Tuesday the 13th) have been translated with cultural differences taken into account – Tuesday the 13th, and not Friday as is the case in the Anglophonic world, is considered to be an unlucky day in many Hispanic cultures.
Of course, some of these atrociously translated titles could just as easily be attributed to straight-out laziness. On this last point, and just because I can't resist, I'll leave you with another one: Dos hombres, un destino. That's "Two Men, One Destiny", AKA "Butch Cassidy and the Sundance Kid."
Of Course, That's Just One Perspective…
Of course, all of the above works in the exactly the same way when translating from Spanish to English. The Spanish film "¡Átame!" (literally, "Tie me Up!") is translated as "Tie me up, Tie Me Down!". I'll leave it to you to reflect on the effectiveness of that translation, and there are undoubtedly hundreds and thousands more out there, but that's an article for another time!
Share this article!